Life isn't always predictable.
---
But with Simplicity,
You'll always be in control.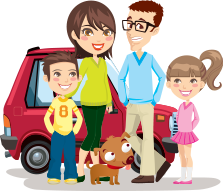 Get Started With
Simplicity Today
800-929-5150
Leave the details to Simplicity
Simplicity Protection® understands that you have more important things to focus on than product administration and underwriting. And with our dedicated team of professional claims adjusters and automotive underwriting partners, you can rest assured that everything will be handled by experienced professionals who understand every aspect of these critical areas.
Turnkey administration
Our claims administrators come to work each day committed to the same goal: exceeding your customers expectations. In 2012 alone, that commitment contributed to $55 million paid in customer claims — and an invaluable impact in terms of promises kept. All of our adjusters have previous retail automotive experience, so they truly understand the challenges and pressures auto dealers and lending institutions face each day.
A-rated Back-Stop underwriters
Assurant SolutionsEFG Companies has an almost 30-year uninterrupted relationship with Assurant Solutions, and their affiliated insurance companies, including American Bankers Insurance Company of Florida, American Security Insurance Company and American Reliable Insurance Company, all "A" rated AM Best insurance companies. EFG is Assurant's longest-standing Third Party Administration partner.
Arch Insurance CompanyArch Capital Group Ltd. is a Bermuda public limited liability company with approximately $6.98 billion in capital at September 30, 2014, and, through operations in Bermuda, the United States, Europe and Canada, writes specialty lines of property and casualty insurance and reinsurance, as well as mortgage insurance and reinsurance, on a worldwide basis.